Discover how to learn Thai with the Pimsleur Method.
Start Speaking Thai using the Pimsleur App!
It's now possible to speak and understand a foreign language effortlessly. The world-famous Pimsleur Method™ combines well-established research, most-useful vocabulary and a completely intuitive process to get you speaking right from the first day. All Pimsleur® courses feature real-world context and flexible vocabulary enabling you to learn your new language in a fluid, natural way. It's the simplest way to start speaking a new language today.
Standard Thai, the dialect taught in the Pimsleur course, is also known as Central Thai or Siamese, and it is the official language of Thailand. Sometimes called the Bangkok Dialect, it is spoken by about 25 million people. Learn Thai today with Pimsleur.
Featured Introductory Program
An affordable way to begin serious language study.
---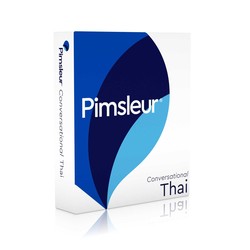 Lessons 1-16 from the Thai Level 1 Course on 8 CDs (8 hrs). Each lesson contains an introductory conversation, new vocabulary & structures. Learn essentials - greetings, meals, shopping, directions and more.
---
Compare Pimsleur Products
Pimsleur (Audio Only)

Pimsleur CD (Audio Only)

Playable in car

(30-minute Daily Lessons based on Pimsleur Method™)

30-Minute Core Pimsleur Audio Lessons

Plays on any device

Requires CD player

App for iOS and Android Devices

Delivery method

Instant Download
Free S&H 4-7 business days

Proficiency guarantee

Introductory Packages

$21.95


First 5 lessons
See details

$49.95


First 16 lessons
See details