Pimsleur Farsi Persian Level 2 Lessons 26-30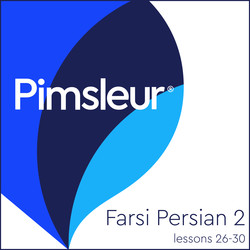 Pimsleur Farsi Persian Level 2 Lessons 26-30
Learn to Speak and Understand Farsi Persian with Pimsleur Language Programs
Lessons: 5
ISBN: 9781508231240

List Price: $21.95
Add to Cart
Free Audio Lesson
Learn a new language while commuting, while cleaning the house, or working out. Like millions before you, discover the power of the scientifically sequenced and portable Pimsleur Method.
Pimsleur includes 5, 30-minute audio lessons and reading instruction as streaming or audio download accessible using the Pimsleur Mobile App, or on your computer. In addition, audio lessons can be played using the Pimsleur Skill for Amazon® Echo® devices. The course also includes an integrated Reading Booklet.
The Pimsleur® Method: the easiest, fastest way to learn a new language. Completely portable, easily downloadable, and lots of fun. You'll be speaking and understanding in no time flat!

Pimsleur Makes Learning Easy
• 30-minute core lessons you can take anywhere with the Pimsleur app, or do at home with Amazon® Alexa®, or on your computer.
• Sync progress across devices
• Stream lessons or download to use in offline mode
• Share course with up to 3 additional household members
• Car mode for easy driving and learning
• Compatible with Amazon® Echo® devices for doing lessons at home

Why Pimsleur?
• Quick + Easy – Only 30 minutes a day.
• Portable + Flexible – Core lessons can be done anytime, anywhere, and easily fit into your busy life.
• Proven Method – Works when other methods fail.
• Self-Paced – Go fast or go slow – it's up to you.
• Based in Science – Developed using proven research on memory and learning.
• Cost-effective – Less expensive than classes or immersion, and features all native speakers.
• Genius – Triggers your brain's natural aptitude to learn.
• Works for everyone – Recommended for ages 13 and above.

What's Included?
• 5, 30-minute audio lessons, all featuring native speakers
• Reading instruction
• A digital Reading Booklet
• Access to lessons through Pimsleur mobile and desktop apps or Amazon® Echo® devices

What You'll Learn
This course includes Lessons 26-30 from the Farsi Persian Level 2 program featuring 2.5 hours of language instruction. Each lesson provides 30 minutes of spoken language practice, with an introductory conversation, and new vocabulary and structures. Detailed instructions enable you to understand and participate in the conversation. Practice for vocabulary introduced in previous lessons is included in each lesson. The emphasis is on pronunciation and comprehension, and on learning to speak Farsi Persian.

Reading Lessons are included at the end of Lesson 30. These lessons, which total about one hour, are designed to give you practice reading Farsi. You'll be reading words, phrases, and short sentences using familiar vocabulary as well as new vocabulary regarding useful topics such as food, travel, shopping, communication, and more. A Reading Booklet to be used with the audio lessons is also included.

Learning the sound of each letter alone and in culturally distinct combinations allows your brain to process what you're hearing in the audio lessons from a new and different perspective. It's a powerful combination that makes Pimsleur different from every other method on the market.

The Farsi Persian Language
Persian is the official language of Iran, Afghanistan, and Tajikistan. It belongs to the Indo-Iranian group of languages and is spoken worldwide by approximately seventy-five million people. Persian has three major dialects: Farsi (spoken in Iran), Dari (spoken in Afghanistan), and Tajik (spoken in Tajikistan). Dari and Tajik are considered a purer form of Persian – that is, they show less Arab influence – but all three dialects are more or less mutually intelligible. This course teaches Farsi Persian.

Tech Talk
• Audio lessons can be streamed or downloaded for offline use in the Pimsleur App for iPhone®, iPad®, and most Android™ devices.
• Audio lessons can also be played on Amazon® Echo® devices using the Alexa® Pimsleur Skill.
• A desktop version is available for Mac® or Windows® computers.
• All purchased courses are backed up in your Pimsleur.com cloud-based digital library account.
• Pimsleur is designed for use by one registered user, plus up to three household members, and may be installed on unlimited devices for your personal use.