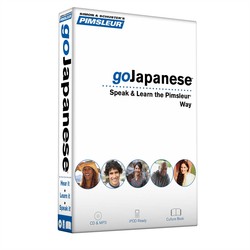 Pimsleur goJapanese Course - Level 1 Lessons 1-8 CD
Learn to Speak and Understand Japanese with Pimsleur Language Programs
Lessons: 8
ISBN: 9781442334564
Availability: In Stock: Usually ships within 1 business day

List Price: $29.99
Free Audio Lesson
Learn a new language while commuting, while cleaning the house, or working out. Like millions before you, discover the power of the scientifically sequenced and portable Pimsleur Method.
Includes Lessons 1-8 from the Level 1 program on 4 CDs and as MP3, 3 hours of culture notes as MP3, and a companion Culture Notes booklet.
The Pimsleur® Method teaches speaking and understanding right from the start

For almost 50 years, in over 50 languages, the Pimsleur® Method has been recognized by experts worldwide as one of the fastest and most effective ways to learn to speak another language. With Pimsleur you will learn Japanese in the same way you learned your first language as a child, acquiring the vocabulary of the new language, along with the melody, rhythm, and intonation of Japanese as used in everyday conversation.

The Science of Memory

Dr. Paul Pimsleur's research on memory was one of his most significant achievements: he discovered that if reminded of new words and information at gradually increasing intervals of time (Graduated Interval Recall™), the learners would remember words or information for increasingly longer periods. Dr. Pimsleur documented that the acquisitions would actually move from short-term into long-term, or permanent, memory.

Culture Notes

Just as The Pimsleur Method teaches you to speak with native-like fluency, Pimsleur's Culture Notes take you instantly to the heart of the language, providing cultural insights from a native's point of view.

Learn on the Go!

goJapanese makes it easier than ever to use the Pimsleur programs by including the spoken lessons in two audio formats. Now you can listen anytime, anywhere: in your car or at home and on your MP3 player.

This package contains:
• Eight 30-minute language lessons on four audio CDs
• A Culture Notes book with updated Notes from all three Comprehensive levels

An iPod-ready MP3 CD with:
• MP3 audio files of the eight 30-minute spoken language lessons
• An MP3 audio version of the Culture Notes
• A printable PDF file of the Culture Notes from the book (Please Note: MP3 disc will not play on a regular CD player.)

On the MP3 CD you'll also find a link to:
An Instant Credit of $100 towards the purchase of the Pimsleur Comprehensive Level 1 program directly from Simon & Schuster, with 30 lessons on 16 Audio CDs. Please see www.pimsleur.com/goJapanese for details.

Note: The purchase of this product alone does not qualify for an Instant Credit, or for the Proficiency Guarantee.

Pimsleur's Proficiency Guarantee. We believe so strongly in the effectiveness of the Pimsleur Method that we will guarantee your spoken proficiency if you continue and complete the Level 1 Pimsleur program. For more details visit www.pimsleur.com/Proficiency-Guarantee.