Pimsleur Haitian Creole Level 1 Lessons 6-10 MP3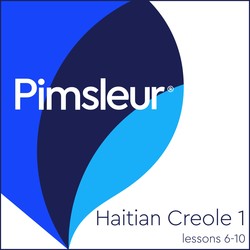 Pimsleur Haitian Creole Level 1 Lessons 6-10 MP3
Learn to Speak and Understand Haitian Creole with Pimsleur Language Programs
Format: MP3
Lessons: 5
ISBN: 9781442336810
Availability: In Stock: Available for immediate download

List Price: $21.95
Free Audio Lesson
Learn a new language while commuting, while cleaning the house, or working out. Like millions before you, discover the power of the scientifically sequenced and portable Pimsleur Method.
Includes 5 lessons as MP3 download (2.5 hrs).
Surprise your friends! Astonish your family! With Pimsleur®, you'll be speaking and understanding like a native in no time. 30 minutes a day is all it takes!
This course includes Lessons 6-10 from the Haitian Creole Level 1 program featuring 2.5 hours of language instruction. Each lesson provides 30 minutes of spoken language practice, with an introductory conversation, and new vocabulary and structures. Detailed instructions enable you to understand and participate in the conversation. Practice for vocabulary introduced in previous lessons is included in each lesson. The emphasis is on pronunciation and comprehension, and on learning to speak Haitian Creole.

The Haitian Creole Language
Haitian Creole is one of the two official languages of Haiti, along with French. It is a French-based creole heavily influenced by West African languages as well as Portuguese, Spanish and the indigenous Caribbean language of Taíno. Pimsleur's Haitian Creole teaches the standard dialect spoken in and around the central district and the capital, Port-au-Prince.

Tech Talk
- Lessons can be downloaded using the Pimsleur Course Manager App for iPad, iPhone and Android devices, and Mac or Windows computers, or
- Lessons can be downloaded as a zip file for use in iTunes or Windows Media Player.
- All purchased courses are backed up in your Pimsleur.com cloud-based digital library account.
- Lessons can be played on your iPod or any MP3 player.
- The Pimsleur Course Manager App can be installed on several devices for personal use only.
- Lessons are non-DRM (Digital Rights Management) MP3 files and can be copied onto a CD or DVD for playing in a CD/DVD player.